We will use the Birkman® assessment to help you discover more about how you are wired; your strengths, what motivates and de-motivates you, your most productive style, your hidden needs and stress behaviors, and best professional fits based on the findings. This is coupled with a 90-minute debrief going over your results in-depth and strategically determining the best next steps to achieve your personal and professional goals. $600
This program is perfect for those looking to grow and do so in a small community of like- minded people. The Flourish program consists of a Birkman® assessment, 90-minute individual debrief, 6 75-minute training and group coaching sessions, and an individual summit call to wrap it up. The Flourish group coaching curriculum will take you from frustrated to flourishing, from confused to clarity, and from good to great.
For the individual who is ready for growth. 1-on-1 personalized and strategic coaching that honors your unique style, needs, and desired outcomes. This 6-month engagement includes trusted and confidential advising, accountability, masterminding, and problem-solving. After an initial discovery phase, we will customize a plan that best fits your objectives and timeline. Using the Birkman® assessment tool we will discover more about your strengths, energizers, blind spots, and your hidden stress triggers. We will also utilize a multitude of other resources and Birkman® reports to create a coaching experience that can transform both your personal and professional life. Starts at $2,300. (All pricing listed is valid through 2021.)
"NOT ONLY DO I RECOMMEND HEATHER'S ASSESSMENT TO ANYONE LOOKING FOR DIRECTION TOWARD FULFILLMENT IN THEIR OWN CAREER OR LOOKING TO MOTIVATE EMPLOYEES TO THEIR HIGHEST PRODUCTIVITY AND POTENTIAL, BUT I THINK THE ASSESSMENT SHOULD BE AN ABSOLUTE REQUIREMENT

Even though successful and already well into my career, I was searching for answers to overdue questions of my conscience regarding my specific personal developed behaviors and interests. My goal was to take my career to the next level while placing more focus on personal fulfillment. In years past, I had taken other personality assessments like "StrengthsFinder", but nothing to the depth or detail that Heather walks you through in her assessment. I was both amazed and relieved as my long-time suspicions and questions were answered along with suggested career paths for maximum personal fulfillment. Heather studies your results and commits to a lengthy one-on-one debrief so that you thoroughly understand your assessment and what specific characteristics are behind your drive in life. Not only do I recommend Heather's assessment to anyone looking for direction toward fulfillment in their own career or looking to motivate employees to their highest productivity and potential, but I think the assessment should be

- Pete Jacobson, Mechanical Engineer

"HEATHER'S COACHING THROUGH MY BIRKMAN HAS PROVIDED A LEVEL OF PERSONAL AND PROFESSIONAL DEVELOPMENT THAT I HAVEN'T EXPERIENCE IN MY 20 YEAR CAREER."

I started coaching because I was struggling to assess the next chapter in my career and felt miss-casted in my own story. Heather's coaching through my Birkman has provided a level of personal and professional development that I haven't experience in my 20 year career. It became a discovery into why I show up the way I do. It uncovered what I am good at and reinforced what I really love (which is not always the same thing). Once grounded, I was able to create frame work for a growth plan that balances my desire for professional development, my need for stability and my endless craving to create. I cannot overstate how rewarding this experience has been. I am 48 years old. Brain fog is real. My mental and physical heath is better and I have a clear line of site for this next chapter. I chose to do coaching with Heather because of her entrepreneurial spirit and faith. I admire those that are risk takers. Her light shines so bright.

-Julie Jones, District Manager, Starbucks

"IT MAKES ME FEEL MORE CONFIDENT & IN CONTROL"

Since working with you and taking look into my Birkman Assessment results, I have felt so much peace in my life. I am walking in my strengths in my business, but I am also able to use my strengths in my parenting & my marriage. It makes me feel more confident & in control. It has also given me the self-awareness to see how I show up when my needs are not met so I can ask fo the things I need. Absolutely worth every penny.

-Becca Gonzalez, Money & Debt Coach, Becca Gonzalez Co.

"SHE HAS ENCOURAGED ME, LIFTED ME UP, AND COACHED ME INTO BEING A BETTER LEADER AND BUSINESS OWNER."

Working with Heather has been one of the biggest blessings in my career and even in my personal life. She has encouraged me, lifted me up, and coached me into being a better leader and business owner. Heather has an incredible way connecting and really understanding what is keeping me "stuck" and developing a plan to not only get "unstuck" but to flourish. You won't regret working with her!

- Becky Lauridsen, Owner of IOME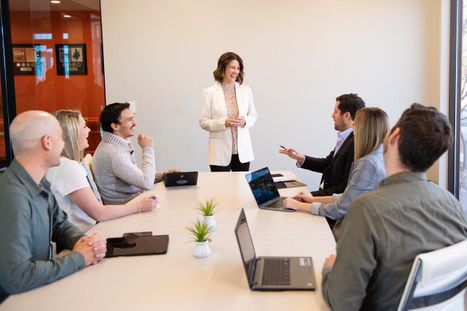 Comprehensive and customized coaching and consulting for you and your leadership team. We offer a wide array of tools and resources including assessments, 360-degree surveys, leadership development programs, and training in groups or one-on-one.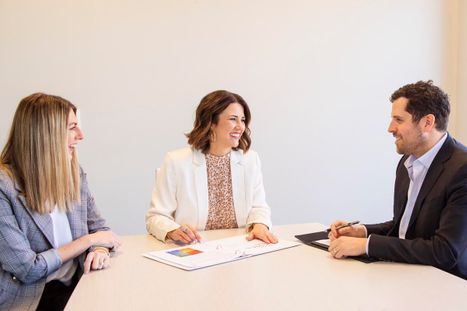 Using extensive group comparative Birkman® assessments and reports we bring teams together to improve culture, and increase awareness and respect of self and colleagues. These workshops can be full or half-day and are sure to be talked about for months to come.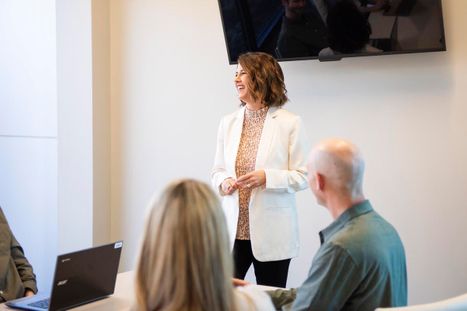 Are you needing a new voice to speak to your leaders with a fresh perspective and content? Heather customizes her leadership topics to your group and its needs. Everything from 15-60 minute monthly programs, to quarterly trainings, or as a guest at your annual conference.
"SHE BRINGS A FRESH PERSPECTIVE AND INSPIRES OTHERS"

Heather has been amazing for our leadership group! She brings a fresh perspective and inspires others to do and be more by delivering relevant and applicable content. I recommend her to anyone looking to level their leadership group up!

-Andrew Salazar, Chief Sales Officer, Madwire

" I NOT ONLY LEARNED A LOT ABOUT MYSELF, BUT ABOUT THE LEADERSHIP GROUP I WORK VERY CLOSELY WITH AND HOW BEST TO WORK TOGETHER."

I've had the immense pleasure of working with Heather in both group and individual coaching settings and she continues to impress me. I've done every personality and leadership assessment out there, and I've worked with several different leadership coaches over the years so I walked into my one-on-one coaching with Heather a little hesitant on if I was going to gain a ton from it. I'll be the first to admit, I was dead wrong! I not only learned a lot about myself, but about the leadership group I work very closely with and how best to work together. And bonus, I feel I made a friend out of Heather! I'm lucky to have had the opportunity to work with her and look forward to continuing to take advantage of what she has to offer!

-Amanda Hoffman, Chief Marketing Officer, Madwire

"I HIGHLY RECOMMEND HEATHER TO ANYONE LOOKING TO GROW PROFESSIONALLY AND PERSONALLY."

The first meeting I attended where Heather presented was enlightening and really caught my attention. She is very personable and is able to connect with her clients in a genuine manner. She provides concrete examples and solutions that truly resonate with me. I have had the privilege to be in her leadership development program and after just one session, I gained so much knowledge and insight on what it means to be a good leader. After that first session was over, I found myself checking my calendar for when I was able to meet with her again because it was so insightful and encouraging to be a part of. I highly recommend Heather to anyone looking to grow professionally and personally.

-Laura Billington, Lead Content Marketing Specialist, Madwire
Frequently Asked Questions
How much does coaching cost?
Pricing varies based on the services needed. During the application/interview process you will be given a pricing proposal.
Where does the coaching take place?
We can meet at a location that is suitable for both of us. Your office, a coffee shop, or even over the phone or zoom video conferencing.
Do you only work with those local to you?
No, absolutely not. We work with clients all over the country and even internationally.
How do I pay for services?
Payment can be made by cash, credit or debit.